Freedom Fighter Feature: Who is Really Protesting the War on Terror Part VII
Over the past week, I have been showing the people really behind the anti-war movement. Yes, it is true that about half of the anti-war protestors don't have the
anti-Israel
,
anti-troop
, anti-capitalism, anti-American attitude that these people do, but the organizers, the ones behind the action, are these hate-filled people. This photo below is a great representation of how the MSM DISTORTS THIS FACT!! (Big HT:Zombietime.com)
Picture in the San Francisco Chronicle:
This picture (left) was in a couple of newspapers across the nation. What you don't see is WHO IS LEADING THIS MARCH. LOOK BELOW (The same masked protester is in the middle of the banner (above the Y). What the MSM didn't show you: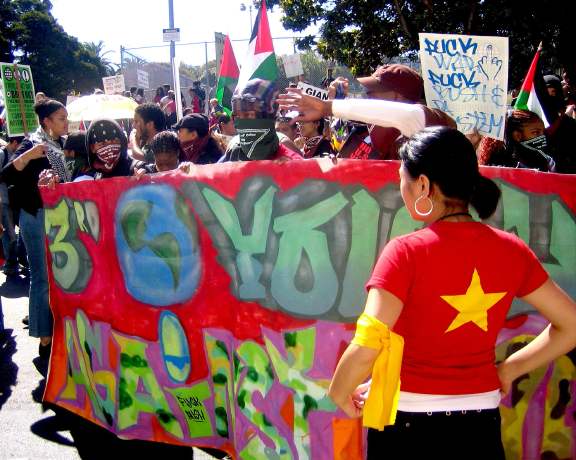 That girl in front is directing the parade where to go. She is a communist supporter and she has the yellow arm band of a protest marshal. Her job is the direct the protest in the right direction and to have it stop and go, depending on where the media is. She supports the regime that killed thousands of Americans in Vietnam and she no doubt supports the insurgents that are killing Americans NOW! That is just wrong.
It is time that we REFRAME THIS ISSUE. They are anti-war...So does that make us pro-war? No, we are PRO-VICTORY. We will not leave Iraq or any other battleground in the war on terror until we have achieved our objectives and made the world a safer place for Americans. If we fail in our task, if the anti-war/anti-troop/anti-capitalism/anti-Americans win, we on the right lose. The super left will become mainstream and we can say good bye to the America that we know and love. This goes beyond just Iraq, this goes to the very heart of WHO WE ARE as a country. Will we be the beacon of hope for the world or just another average country, one in 200? The choice is up to us.